Southern Alps will likely save NZ from 'river piracy', but they won't save our retreating glaciers
DAN SHUGAR/UNIVERSITY OF WASHINGTON TACOMA
Among glaciologists, the Fox and Franz Josef glaciers are rock stars, some of the most studied and easily accessible sites in the world.
But the world famous tourist attractions have retreated dramatically since the 2000s.
Franz Josef  - which starts at an elevation of 3500 metres - has retreated by about 1.5km since 2008.
Since the end of the 19th century, most of the 3000-or-so glaciers in New Zealand have been retreating - with occasional periods of small advances.
READ MORE:
* Nasa examines 'extreme' NZ rainfall
* Climate change re-routed entire river in Canada
* Former Taranaki astronomer helps find new planet
* Kiwi astronomer Michele Bannister reveals an object with a weird orbit way out in space
The Tasman glacier, according to Nasa, has retreated by an average 180m per year.
Glacier retreat 1990-2017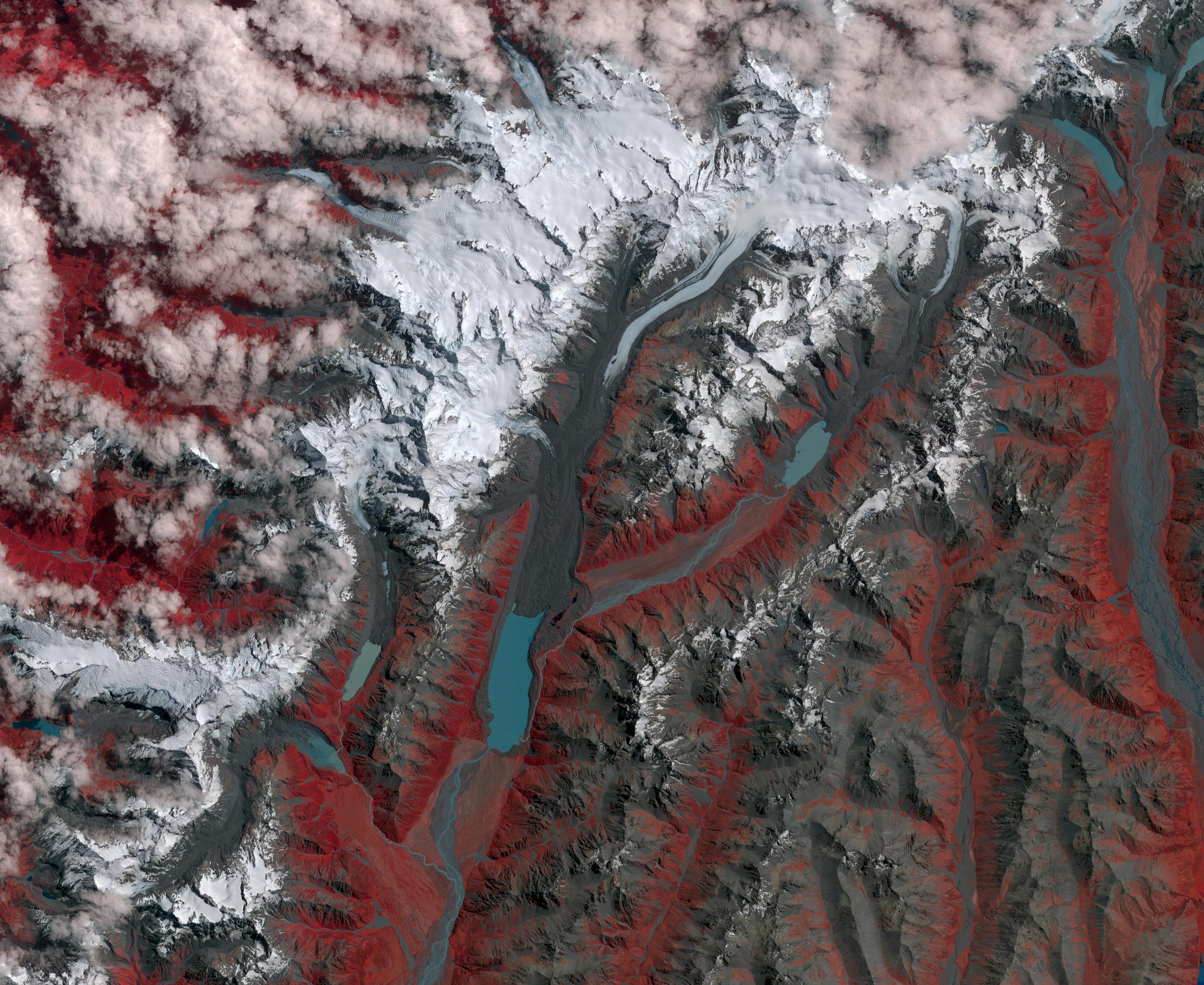 Mt Cook is left of the image, the Tasman Lake is centre left with the Murchison River to its right and the Godley River on the far right. CREDIT: Nasa Earth Observatory
Before 1973, Lake Tasman simply did not exist.
Earlier this year, a study carried out by Victoria University of Wellington and the National Institute of Water and Atmospheric Research tried to explain an anomaly.
The glaciers on the West Coast have been mostly retreating since the mid-2000s, but before this dozens of glaciers in the Southern Alps were advancing - but glaciologists struggled to explain why.
Globally, there are about 160,000 glaciers.
At least 58 glaciers advanced between 1983 and 2008, including Franz Josef, which advanced almost continuously during this period, according to a study of glacier physics in Nature Communications.
One of the authors of the study, Victoria University of Wellington associate professor and director of the Antarctic Research Centre Andrew Mackintosh said it was important to consider regional climatic variations in New Zealand and the sub-Antarctic region.
New Zealand's climate varies considerably, with cold southerlies sweeping up from the Antarctic, warmer westerlies and northwesterlies, and cooler ocean temperatures in the south.
On a global scale, from the 1980s to the 2000s, human climate change led to an increase in glacier retreat in many parts of the world.
Since the late 19th century, Fox and Franz lost about 3-4km in length and around four square kilometres in area, with the greatest loss between the 1930s and the early 1980s.
The current retreat phase is the fastest retreat on record for both glaciers.
"Between the early 1980s and the mid-2000s there were enough cool and wet years to cause some glaciers to advance," Mackintosh said.
"After that there were much warmer years and Fox and Franz retreated dramatically...they seem to have slowed down their retreat but they are about as small as they have ever been.
"From year to year there could be a little bit of an advance."
In Canada, a river that flowed from the vast Kaskawulsh glacier simply disappeared over four days last year in the first observed case of so-called river "piracy" - when river flow re-routes into another river.
Most of the water gushing from the glacier in northwest Canada suddenly switched from one river to another. 
The diversion changed the Slims River from a 3-metre-deep, raging torrent to something so shallow that it barely was above a scientist's high top sneakers at midstream. The melt from the Yukon's Kaskawulsh glacier now flows mostly into the Alsek River and ends up in the Pacific Ocean instead of the Arctic's Bering Sea.
Since New Zealand's glaciers change drastically, what could happen to our rivers?
Mackintosh said the likelihood of rivers in New Zealand being rerouted by glacier retreat was slim - but not impossible.
The landscape formation - geomorphology - of New Zealand was characterised by large-scale, rapid, uplift, deformation and glaciation, which means the mountains formed steep-sided valleys and gorges.
River "piracy" requires a level plateau into which water diverts and, in the Canadian example, a flat plain where a slight change in runoff gradient changes the course of a river. In New Zealand, mountains tend to rise sharply and rivers form steep-sided gorges, or wide channels with steep banks, rather than plains.
Mackintosh said river piracy was unusual and until the Slims River the phenomenon had not been observed.
"The fact it's happened in Canada, it's really amazing, but it doesn't really mean we expect to see the same thing here. You need to have a drainage divide that's really flat.
"The Southern Alps are really quite spiky, they're characterised by steep slopes. River drainage is well defined by the topography."
The VUW team were applying for funding to research the extent of glacier retreat during previous periods of global warming.
Climatologists estimate there have been 30 or more periods of glaciation - when ice advances - in the last 2.5 million years.
"New Zealand is prone to regional climate variability so in that period when glaciers advanced [during global warming] we had certain kinds of weather patterns and southerly air flows, a cooler ocean in the Tasman. That could switch, there could be more northerlies and a warmer Tasman.
"That's going to have an influence in the future," Mackintosh said.
If forecast global temperature changes occur - an average increase of 2degC to 4C - this would be a different order of change and would overwhelm any regional climatic variations, he said.
"Between the 70s and today, there's no doubt there's a warm trend."
Niwa climate scientist Dr Andrew Lorrey​ said the undulating topography of, for example, the high Arctic was markedly different.
The constraining topography of New Zealand did not lend itself to river diversion on a large scale but the record of changes in the Southern Alps was important and showed dramatic reduction in glacier mass.
"For a place like New Zealand to have that kind of record and contribute to glaciology and climate links on the global stage is pretty important."
Franz Josef, which has the lowest terminal face elevation of any alpine glacier in the world, is currently 11 kilometres long and has an area of 35 square kilometres but if the temperature increased by 4C, most of our glaciers would melt and disappear.
The Niwa study showed Franz Josef regained half of the length lost during the 20th century, but the Tasman glacier - the country's largest ice mass with one third of all ice volume - retreated, which means the overall ice volume continued to decline from 53 cubic kilometres in 1978 to 34km cubic in 2014.
For an idea of scale, the Mt St Helens eruption in 1980 ejected approximately four cubic kilometres of lava, ash and debris.
- Stuff