Millennial Money: We're not willing to pay to keep our finances in check
JULIE ILES
Last updated 14:11 06/10/2017
What do interviewers and financial advisers have in common? They'll both probably ask you where you see yourself in five years.

And if the answer is travelling Mongolia on horseback indefinitely, that's something you should tell your financial adviser and maybe not highlight in a job interview.

New Zealand Financial Planning adviser Nicole Hoy said for a financial adviser relationship to stick, "the biggest thing is being on the same page.

"There's no judgments about the way you live, and what you want your money to do, that's you and you have to be able to sit there and talk money essentially no-holds-barred."

READ MORE:
* Millennial Money: Four investments you should be making in your 20s
* Financial advisers cluster around wealth
* Many Kiwis ready to embrace 'Money Robots

Hoy recommends seeing several financial advisers to find one you feel comfortable with.

Yet many millennials don't seek the advice of one.

A 2014 survey by global investment banking company UBS found millennials preferred to seek advice from their friends rather than a professional.

Most millennials, like older generations, first looked to a spouse or partner for financial advice. Their next choice is their parents, followed by friends and other family members.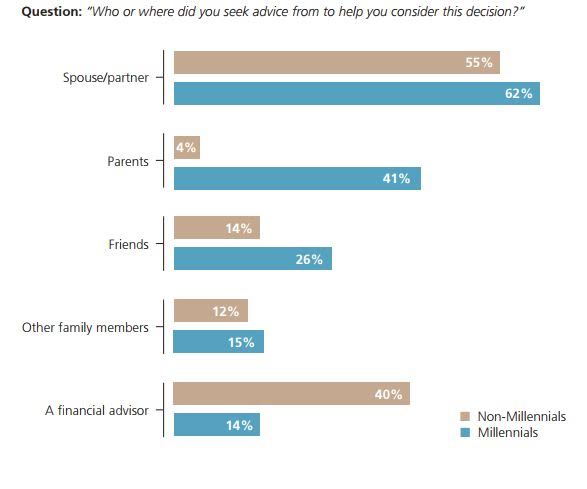 But Westpac head of private wealth management Katie Christoffersen said while millennials will listen to their parents' observations, they don't tend to pay much attention to them.

"They rely on friends for financial guidance as well as social media."

Non-millennials were much bigger champions of financial advisors: 40 per cent of non-millennial respondents reported seeking advice from one as their first port of call on a financial decision, while only 14 per cent of millennials said the same.

Christoffersen said millennials using Westpac's financial planning service tended to be time poor but well-prepared for meetings, wanted quick answers, were interested in their advisor's credibility, and did not want to complete a lot of paperwork.
She said they had "limited interest" in retirement savings, but got more focused on their KiwiSaver investments as their balances grew.
"They don't really connect with retirement savings as it is too far away.

"However we consider this an area where they need to engage, as it is very likely that when they reach retirement age, their NZ Super entitlement will be less than currently available."


If like me, your approach to retirement saving is that you occasionally wake up in the middle of the night and transfer somewhere between $15 to $500 into a savings account, contribute just enough to KiwiSaver for the Government to give you $521 a year, and refuse to buy a credit card, a financial adviser could bring some structure to your strategy.

Most financial advisers will offer your first appointment free of charge, but it's also good to check if your employer offers a free consultation through Employee Assistance Programme.
Financial Markets Authority's Liam Mason said in March there were 150,000 to 200,000 customers of authorised financial advisers in the country, but it was "just a fraction of the population.
"A lot of people are not getting advice from an AFA, and that is probably around the amount of money they have to invest," he said.
Since the introduction of the Financial Advisers Act, it has been harder to find a financial adviser if you only have modest sums of money to invest.
Advisers now have more compliance requirements, and as much administration for a broke millennial as a millionaire - but if they are being paid on a percentage model, they will receive a lot less.
An FMA snapshot showed that over 40 per cent of financial advisers receive commission on the funds and saving products they sell.
Financial adviser Alan Borthwick of Dux Financial said" "The challenge is that people have this perception that advisers all get paid on commission ... but if you're wanting advice with no product attached then there's going to be a fee for the work.
"But a good adviser saves and makes you more money over the time of the relationship than they ever cost you."
What to know going into a meeting with a financial adviser:
- Know how much debt you have
- Know your spending habits (you can use Westpac's CashNav app, the Pocketsmith app, ANZ Money Manager, ASB Track My Spending, or Sorted's budgeting tool for this)
- Have clear goals
- Know what advice you're seeking (e.g info on insurance options or budgeting tools)
- Look up the adviser's Disclosure Statement
What to ask your financial adviser:
- What qualifications do you have? (Be sure they are an Authorised Financial Adviser if you're after investment help)
- Do you have experience in the type of advice I am looking for?
- What costs will I pay and how are these determined?
- What information will I receive about my investments?
- How can I get my money back?
- What are the risks of the investment?
- How do I know what you're recommending is the best option for me?
- Stuff
Comments