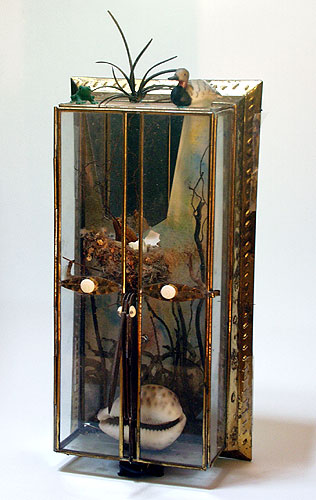 The Zymoglyphic Museum is a bit hard to describe. It's not really a museum, but it's not really an art gallery either.
It's all about finding the weird and absurd in everyday objects. So I guess it's just plain odd.
For those of you who don't know what zymoglyphic means (and you don't know so don't pretend to), it's arranging natural objects for poetic effect.
Like putting a rusted Coke can on a twig and saying it's a red-beaked branch straddler.
Or something like that.
The story is that the "museum" collects real life objects, so each one is accompanied by short blurb explaining what it's supposed to be.
Since the idea is that it's all real, it doesn't, unfortunately, tell you what the items are made of.
It can also creep you out, though. That thing on the right, by the way, is a "reflecting mask".
There are many, many more strange zymoglyphs here, and a few more images after the jump.
This "Self-destroying Automaton" takes itself to bits.
This friendly little character is called a "root worm".
This is a "The Zymoglyphic Mermaid". I prefer my mermaids more feminine myself.
Newest First