A cut pipeline is causing a jet fuel shortage at Auckland Airport. Here's what we know so far
A fuel pipeline that supplies Auckland has been damaged and it has already disrupted travel for thousands of people. Here's what we know so far.
WHAT HAPPENED?
A 168 kilometre-long pipeline supplying jet fuel, petrol and diesel from the Marsden Point refinery in Northland to tanks in Wiri, Auckland, has been out of action since Thursday. It's believed to have been hit by a digger being used to extract swamp kauri near Ruakaka.
It's also Auckland Airport's only supply of jet fuel.
READ MORE:
* Flights cancelled due to fuel shortage
* Fuel cut outside Air NZ control
* Collins says cause is 'embarrassing'
On Thursday, the pipeline's customers – BP, Z Energy and Mobil - as well as Energy Minister Judith Collins were alerted to the situation. Prime Minister Bill English received a "high level" briefing on Sunday.
Nicole Lawton/Stuff.co.nz
However, it may have been damaged months ago and only failed on Thursday, according to one report.
Despite the pipe being shut down within 15 minutes of being damaged, about 70,000 litres of fuel was spilled, RNZ reported.
It's the first time the pipeline has suffered a fault, according to Mobil Oil New Zealand's manager Andrew McNaught.
Collins admits it's "embarrassing" such a massive issue was caused by a digger driver.
HOW DOES THE PIPE WORK?
The pipeline is owned and maintained by Refining New Zealand.
The pipe is 250 millimetres wide and has an approximate volume of nine million litres. It's buried along it's entire length.
It first went into operation in 1985. It supplies regular and premium petrol, diesel and jet - A1 fuel. Each product is pumped down the pipe, one after the other.
On its website, Refining NZ says: "there is some mixing at the interface which can be switched into special tanks at Wiri for blending later."
It operates under a five-yearly certificate of fitness and annual surveillance audits. This interactive map shows how the pipeline works.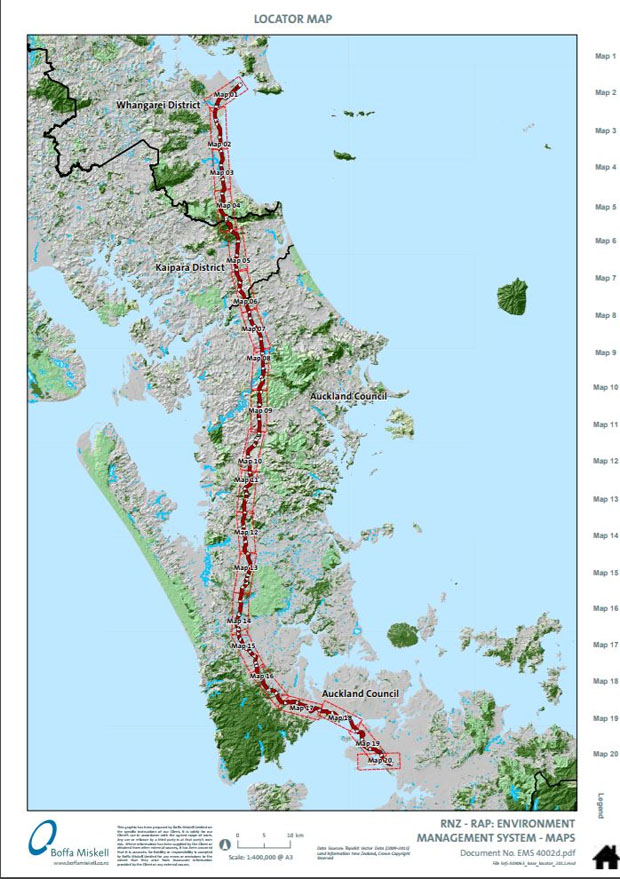 HOW LONG WILL REPAIRS TAKE?
A fix is expected to take between 10 and 14 days.
Work was underway on Sunday night to repair it, but the site is difficult to access and repairs need to be certified.
Once repaired, it's likely it will be operated at 70 per cent capacity until it's certain repairs are successful.
WHAT IMPACT WILL IT HAVE ON FLIGHTS AND TRAVEL?
At least 2000 passengers per day at Auckland Airport could be affected.
Twenty-seven domestic and international flights were cancelled on Sunday alone and more are cancelled in coming days. 
Air New Zealand spokeswoman Kelly Kilgour said it would refund all fares for flights that were cancelled because of the cut.
Travellers without insurance could be out-of-pocket.
International flights will have to make extra refuelling stops to ensure they have enough to depart.
WILL PETROL AND DIESEL SUPPLY BE AFFECTED?
Mobil's McNaught says fuel companies are trying to manage the impact of the temporary shut-down.
Alternative supplies for petrol and diesel are being arranged.
McNaught was confident supply to Auckland could be maintained by trucking in fuel.
"If any retail customers were inconvenienced, we are confident this would be minimal and short-lived," he said.
WHAT WAS THE ENVIRONMENTAL IMPACT?
Refining NZ chief executive Sjoerd Post took to the company's Facebook page to address concerns about harm to the environment.
On Thursday, after the leak was identified, he wrote: "spill is on farmland and contained... the team is removing the spilt fuel as we speak and we intend to deal with the soil tomorrow".
The Department of Conservation says the spill isn't expected to pose a significant risk to the environment.
DID WE KNOW THIS COULD HAPPEN?
The government was warned about severe consequences of a shutdown of the pipe by reports in 2012.
HOW MUCH WILL IT COST?
A short-term disruption was predicted to cost about $84.9 million or a long-term disruption, $466m, according to the 2012 reports.
Collins estimated the incident could cause "millions and millions of dollars" to the Auckland economy.
English wouldn't speculate on the impact of jet fuel shortages.
WHAT WE DON'T KNOW YET:
There's still uncertainty about a lot of things.
Exactly how the damage was caused and why a digger was being operated so close to a key pipeline is the main question that needs to be asked.
A more precise repair timeframe isn't clear. Refining NZ chief executive Sjoerd Post said the company would have a better idea of that by the end of Monday, RNZ reported.
The cost. The fuel shortage is likely to have a wide-ranging effect. From tourists, holidaymakers and people travelling on business, to airlines, Auckland Airport, Refining NZ and many more.
Who's liable for the damage and who'll end up paying for the fix isn't clear yet either.
Long term, what we need to is if a solution will be provided to avoid a disaster like this happening again.
We also need to know why action wasn't taken to mitigate the issue when reports first identified the potential consequences of a fuel supply cut.
- Stuff