Crashes involving foreign drivers on the rise
The number of tourists involved in crashes on New Zealand roads is rising.
According to Ministry of Transport statistics, the number of fatal and injury crashes in which a overseas licence-holder was to blame has increased from less than 3 per cent in 1995 to almost 7 per cent.
The percentage in which an overseas licence-holder did not adjust to local conditions has grown, too, but is still less than 2 per cent.
In February, a petition was brought before Parliament to require tourists to sit a New Zealand driver licence if they were staying in the country longer than three months.
READ MORE:
* How many Kiwis have died on our roads?
* Widow of man killed in crash confronts driver
* Grieving mother asks for stricter rules 
It is estimated the social costs are more than $4 million for each death and between $430,000 and $760,000 for each serious injury.
People visiting New Zealand are allowed to drive up to a year if they have a valid licence for their home country.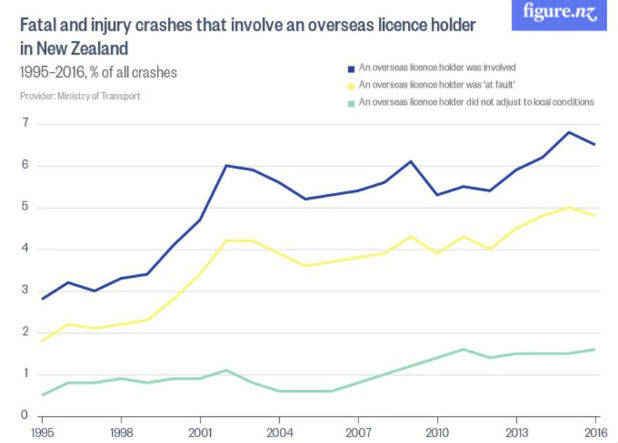 The Overseas Drivers in Crash report released in April last year found a third of at-fault overseas licence holders failed to adjust to driving conditions, including driving on the left. That rose to half for fatal crashes.
Prime Minister Bill English said it was not practical to test every driver when they came to New Zealand.
Others said it was flawed to only target those who were on a visa of longer than three months.
The Transport Select Committee voted against progressing a similar petition in 2015 calling for foreign tourist driving test, which was brought by 10-year-old Cody Roberts, whose father was killed by a foreign driver.
Learn more about the information shown above, and explore more charts, at Figure.NZ's site.
- Stuff