McCahon painting fetches $540,500 at auction in Auckland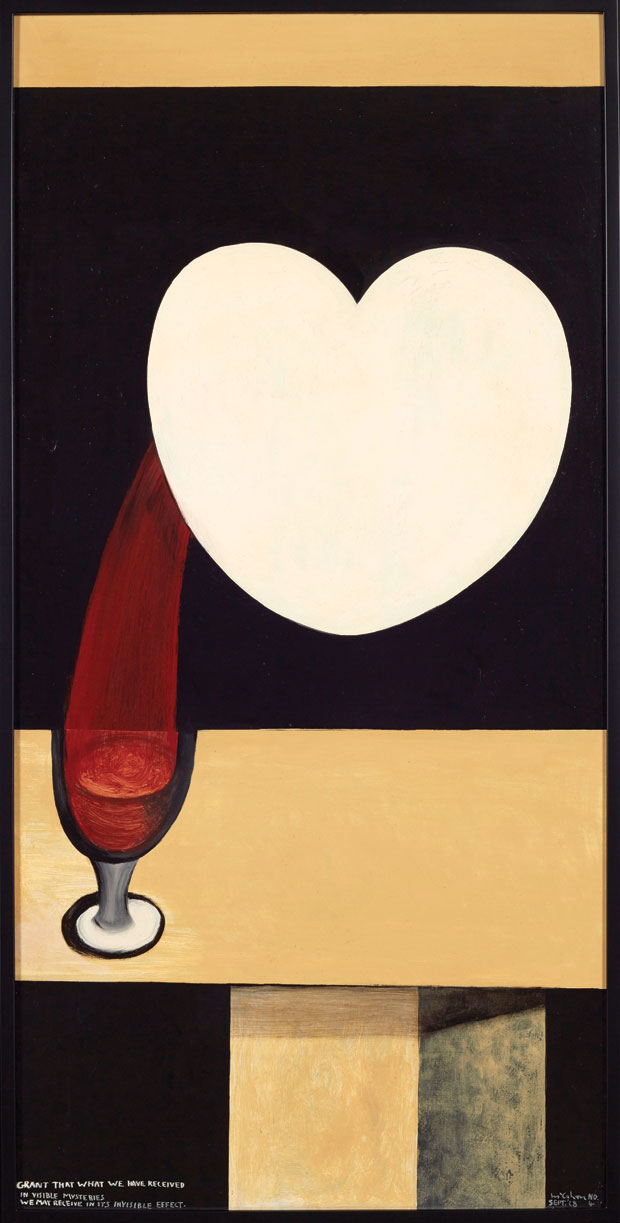 Visible Mysteries No.4 by Colin McCahon.
A striking Colin McCahon painting has fetched $540,500 at auction after coming on the market for the first time in 50 years.
It was purchased after a heated round of bidding at Mossgreen-Webb's in Parnell, Auckland on Monday evening. 
The painting, titled Visible Mysteries No.4, was given a pre-auction estimated value of $480,000 to $700,000.

It was the first work from the renowned Kiwi artist's famous Visible Mysteries series to ever come on the market.

READ MORE:
* Colin McCahon exhibition showcases his Maori works
* Colin McCahon painting sells for $1.35m - officially NZ's most expensive artwork
* Stolen McCahon twist

Until now, it had been in the private collection of artists Pat and Gil Hanly, who acquired it in 1968 - the same year it was painted.

At the time Pat Hanly described it as beautiful, calm and infinite.
It was painted using synthetic polymer paint on hardboard, and features a glass of wine flowing down from a white heart.
Sophie Coupland, head of Art at Mossgreen-Webb's, dubbed it a "potent emblem of a heroic period in Auckland's art history."
"[It is the] pinnacle of McCahon's engagement with and empowerment of the language and iconography of Catholicism".
McCahon, who died in 1987, is regarded as one of New Zealand's foremost modern artists. 
His seven-panel painting The Canoe Tainui last year became the most expensive piece of artwork sold at auction in New Zealand, fetching a cool $1.35 million.
It was described at the time as perhaps the most important New Zealand artwork to ever come on to the auction market. 
Another auction of important Kiwi art works is set to take place in Auckland city on Tuesday evening. 
The International Art Centre in Parnell is auctioning two Charles Goldie paintings, which could fetch up to $300,000 and $500,000 each, as well as a painting of the man who became known as the founder of Auckland, Sir John Logan Campbell, valued at $500,000.
The latter will be the first public appearance of the work since it was painted by Louis John Steele, possibly in 1903.
International Art Centre director Richard Thomson said the painting was a national treasure.
"Steele was one of the greatest influences in the development of New Zealand art.
"He taught art in Auckland and one of his early pupils was Charles Frederick Goldie, now considered the most significant painter of Maori subjects in New Zealand art history."
The auction will take place at the International Art Centre, 202 Parnell Road, at 6.30pm on Tuesday.
- Stuff