Netflix series, new restaurant - it's a big day for chef Monique Fiso

There are big days in life, then there are BIG days. It doesn't get much bigger than today for Wellington chef Monique Fiso.
Over the same 24-hour period she opens her new restaurant, Hiakai, in Mt Cook, and appears in the freshly dropped new mega epic Netflix chef competition Final Table.
Much more lies behind both than you'd imagine.
Foodies across New Zealand have been waiting for this restaurant for two years.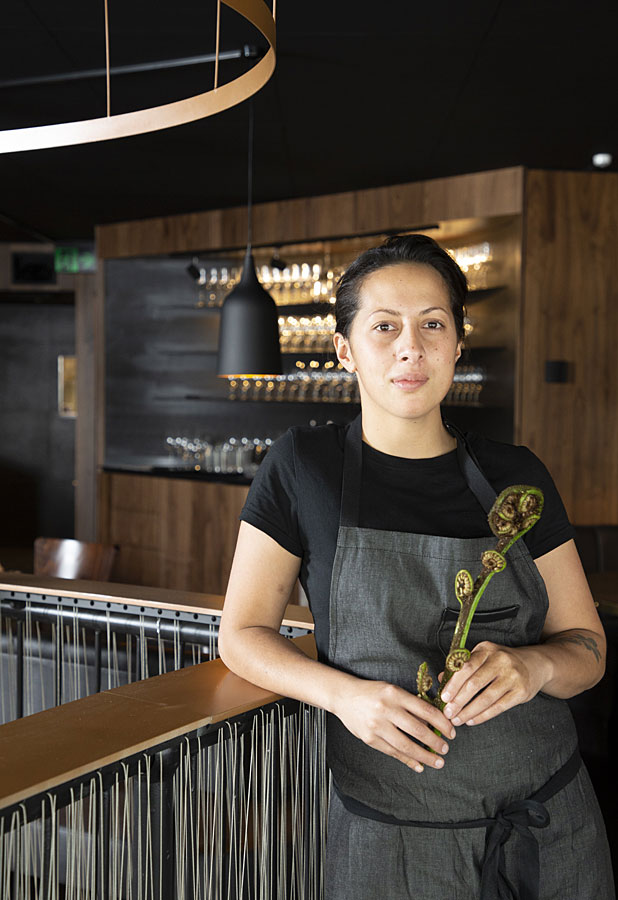 Chef Monique Fiso has had a big year.
READ MORE:
* Why restaurants are turning themselves inside out
* Is softdrink kombucha still the real deal?
* How restaurants will use AI to boost sales
Fiso uses Māori and Polynesian ingredients to create excitingly different dishes and many profile stories about her have portrayed her as a flag bearer for New Zealand cuisine.
It doesn't hurt that she's young, photogenic and stands out with her Māori-Samoan heritage.
So Hiakai (means hungry) is the big step forward from the pop-up events she has done for the past couple of years. For many fans, this is not just about Fiso's first restaurant, it's about New Zealand's cuisine identity.
Big pressure.
Then there's the Netflix role.
This is a completely different beast. Fiso entered a knockout cooking competition against 23 of the worlds best chefs, made on a scale and with a budget unlike anything before. The Michelin star studded group faces dramatic ethnic cuisine challenges. The filming quality is at the cinematic level.
In what is aimed at being the most epic reality cooking show ever, knowing about horopito leaves isn't going to help Fiso and her Indian teammate Amninder Sandhu in the Mexican challenge and save them from being the first sent packing.
More big pressure.
Fiso is on the phone at 7am and it's a few days before the big day. So she doesn't know how the restaurant will go and can't say how the TV show goes.
But asked which is she most nervous about: the restaurant in Wellington, population 400,000; or the show, subscriber population 137 million, that's an easy one.
Hiakai is her livelihood. Wellington is home. "I have put my heart and soul and everything into it."
How does she sleep with all the expectation hanging over her?
"Sometimes I do find myself unable to sleep at night," she says. "I still find myself going (sucking-in breath sound) ... having a little bit of an anxiety attack."
To deal with it, she tries to keeps the first hour of the day to herself, goes to the gym, remembers to breathe, makes lists, and prepares.
"It's a mental game really. You know all these things are going to happen and you can just freak out and become unable to move, or you can go 'what do I need to to to make sure that things go well'."
It has been a huge year already for the 31-year-old.
In June this year, the late world-renowned American food critic Jonathan Gold singled out Fiso's contribution to a feast cooked by 20 of the best women chefs at the Los Angeles Food Festival.
He called her kumara wrapped in mud and cooked over a hot wood fire, a kind of hangi touch, a festival highlight. It was "spectacular", he said.
In August, Fiso appeared in the New York Times in a feature story The Chefs Redefining Polynesian Cuisine.
"When Fiso serves a plate of kumara (sweet potato) gnocchi in a sauce of huhu grubs, which feed on rotten wood and have a taste at once buttery and musty, it's neither novelty nor dare. This was the food of her people, now brought to the light of the modern day. She is honouring her ancestors, and fighting for them ..." the story enthused.
Fiso was described as one of a new generation re-imagining regional food for a new era.
Last month Fiso, described as "a renowned chef and Māori cuisine champion", had a new exhibition on her work backing Māori ingredients at the Museum of Transport & Technology in Auckland.
The same month she was presented Cuisine Magazine's Future Food Legend award for 2018.
And the first thing made on the counter of her still being completed restaurant were horopito chocolates for visiting Prince Harry and Meghan Markle.
All this, and she hadn't even opened her own restaurant yet ...
​Fiso's dad is Samoan and her mum Māori and she was raised in Ascot Park in Porirua. She says the neighbourhood was brown and spoke several Island languages.
In fact it was so brown she thought she was growing up in Samoa.
She remembers as a four-year-old watching TV and seeing ads on how Kiwi kids are Weet-Bix kids.
"I was like, all these white kids are having a lot of fun." She told her dad she'd really like to go to New Zealand one day.
He told her she was already there.
"I'm like WHAT! And I just had to go and lie down on the trampoline in the back yard and stare up at the sky and think. I was in New Zealand. That was crazy. My mind was totally blown."
A few years later the family moved into the city and it was the opposite shock to be the the only brown family on the block for a while ... "I was like take me back to Porirua", she laughs.
Fiso dropped out of school to study cooking at Weltec, then worked for Martin Bosley. He showed her that food could be more than just a fancy experience, it could also be an expression of something.
On a whim she took off to New York where she survived, then thrived, in the toughest of cooking environments at Michelin-starred restaurants.
But after seven years home was calling. She came back with the the dream of using her polished fine dining skills to take Maori ingredients to a level never seen before.
And she's now back in Wellington, where it feels good to be close to family and be part of the restaurant community.
"It's funny when I was younger I couldn't wait to leave. Even when I came home to visit after living in New York I'd think I couldn't imagine moving back here," she says.
"And now I've set up a business here."
Hiakai has three tasting menus of six, eight and 10 courses with prices ranging from $95 up to $155.
The dishes are classically pretty, but with unique Kiwi flavours and twists.
There's Kiwiness in the ingenuity behind it too. On Fiso's Instagram page is a photo of a wax casing being broken and inside is a tītī (muttonbird).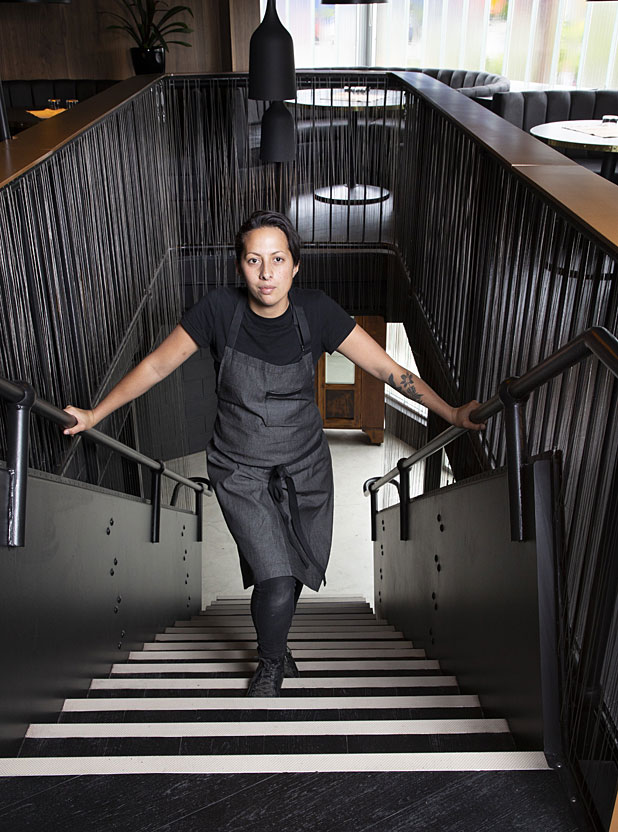 Monique Fiso has been portrayed as a flag bearer for New Zealand cuisine.
It was Fiso's cunning plan to get them fresh, instead of frozen and wrapped in clingfilm. She heard wax was used to help get the feathers off and asked for them to be shipped covered in wax. It's worked perfectly, the birds arrive in just-killed condition.
She uses the bones for stock and the meat and fat pop up in different dishes.
"We try and get a lot of mileage out of the bird because it is bloody expensive," she says.
Friends used DIY Youtube clips to create a backyard chocolate panning machine, so she can make Snifters. So you can get a sense of the fun that will also appear.
Back to the Netflix show and those expectations.
​Fiso says so many kind, almost gushy stories had been written about her, that she began to wonder if she was really any good under all the well-meaning hype.
"I actually just really wanted to know where am I in the scheme of the world."
So she put herself up against the best in the world in the new Netflix series. Some other big name cooks were big talkers, others nervously rambled off their resumes.
Fiso just kept quiet, even when she could see she was being written off as likely to go home first because she was this unknown Kiwi chick.
Most didn't know about all the time she'd spent in New York's top restaurant kitchens.
Again, she can't say how it ends.
But she will say the show was a personal eye opener. She discovered ... "I can cook. I can cook. Yeah, actually I know what I am doing".
"The most important thing I took from the show was I should stop doubting myself so much."
It's a big day for Fiso today. It's obvious there will be many more to come.
Stuff