Victims of pyramid scheme demand their money back
MARTIN DE RUYTER/FAIRFAX NZ
Women who lost thousands of dollars to illegal pyramid schemes promising enlightenment and sisterhood are demanding their money back.
As the truth about the gifting circles becomes known, those who have been involved are speaking out despite being ostracised for it.
Nelson woman Clare Halford, formerly known as Fran, said she recently contacted the ex-leader of a circle she was involved in to say she wanted to be paid back the $5000 US ($7000 NZ) she gave her to join. 
"I got a bit more feisty this time and said it was not okay. Last night she put $3000 in my bank account and said we should meet and talk about the rest she owes me."
She still hopes to get the $4000 outstanding.
READ MORE:
* Spiritually transmitted disease: The poison lotus
* High-flying women lose money in secret spiritual movement with 'hallmarks of pyramid scheme'
* 'Naive' investors claim $650,000 lost to suspected Ponzi​
* Is Herbalife a pyramid scheme? Billionaires at odds over the question

The Commerce Commission last month announced women's gifting circles are illegal pyramid schemes in breach of the Fair Trading Act, after it launched an investigation last year.

Women operating a circle, or who invite others to join one, may be fined up to $600,000 per offence.
A former medical doctor turned writer, Halford went public last year as part of a three month investigation by journalist Anke Richter.
She was "hunted down" by two respected, professional women from the Nelson community and recruited.
They met as a circle every week to discuss life, spirituality and development, and had a weekly conference call with one other woman and coaching on how to recruit others.
But it wasn't long before she discovered the "box of chocolates was actually a box of curds".
"It's really so unbelievable I fell for it — but that's what's so insidious about it. The women were really lovely professionals who I respected and admired."
Originating in the United States and Bali, many circles have been set up in Auckland, Tauranga, Nelson and Golden Bay over the last few years.
Gifting circles are illegal in Canada and in the US have been under investigation by the FBI where more than 20 circle women have been convicted for fraud and tax evasion and two given a 14-year jail sentence.
There is no website, no registered organisation, just "friends telling friends" who claim their actions are legal because you can privately gift money in New Zealand up to any amount.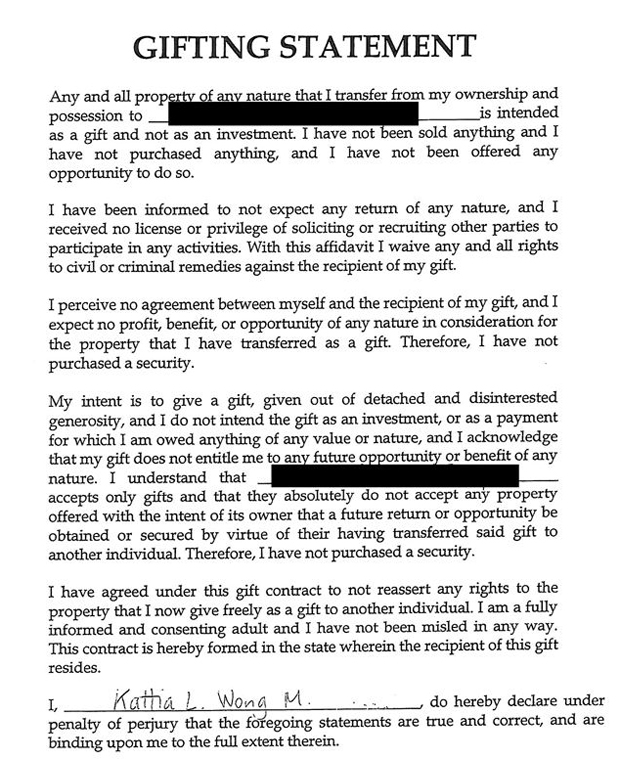 Leaders invite women to make a one-off gift of NZ$7000, in return for sacred sisterhood, empowerment and abundance.
They sign a document stating it's a "gift and not an investment" and that they "expect nothing in return" and cannot ask for it back.
Women enter the circle as a Seed, then move on to Sapling, then Blossom and finally achieve the "Lotus" status to receive a cash gift of $56,000 NZ from eight new women. If they are unable to recruit others the group can collapse. 
Only about 12 per cent of women ever make a profit and the rest lose their money.
A "circle invitation training" document from Bali in 2014 tells members to be very "private" about the circles and "discerning" about who they invite.
They are not to talk about circles in public places, to keep all circle documents in a private place, to not invite women in the legal professions and to invite women only by telephone or in person — but never by email.
Halford is part of a Facebook support group for mainly New Zealand women who have left circles, called the Muddy Lotus, with nearly 100 members.
She is encouraging other women to ask for their money back too.
"Many women feel a lot of shame and embarrassment for being involved so they don't ask. Others don't want to lose friends in the community. Also because it was a gift, some women feel like they can't get it back."
Auckland fashion designer Kattia Wong was also paid back her money by an "experienced sister" from another circle, but not her ex-Lotus.
"When I realised what circle was really about I spoke out and I was on the front of a newspaper and national radio, that's when I got my money back. They wanted me to shut up."
Circles were "breaking apart communities of women" and praying on their loneliness and vulnerability, who were losing thousands of dollars to a few at the top.
Women should not feel they are not doing anything wrong by asking for their money back – that it's their right.
"When they recruit you they make you sign a document saying that you are not expecting anything in return. This is the main reason women don't ask for their money back, but they need to understand this whole thing is illegal and the document didn't mean anything anyway." 
It was "like a thief selling stolen goods", Wong said.
One Golden Bay woman, who did not want to be named, lost all her money but says she has no regrets.
She was involved in two circles over three years and she gifted $7000 to her Lotus, which she took out of her mortgage.
She said she got "so much in the way of growth and love" and felt only positive about the "genuine women" and intention of the group and never felt like a victim.
Another Golden Bay woman said the local circles made her sad because it "isn't what women supporting women should be about".
She really believed women supporting each other in a "true circle" without monetary gain could bring lasting positive change.
"But when I see something like this happen in Golden Bay, where it's getting really catty and messy and pulling people apart, it makes me sad."
- Stuff.co.nz