Who will fight them in the rucks, in the mauls, and never surrender?
PHIL WALTER/ GETTY IMAGES
OPINION: With the Election Championship looming on September 23, Stuff takes a look at the leading contenders for Parliament, using the microscope of our national game.
What would a Parliamentary XV look like? We feel we have picked a side with MMP-like balance, though its selection has been disrupted by recent political events.
NZ First leader Winston Peters will captain the team.
COMPOSITE IMAGE: STUFF/GETTY IMAGES
Fullback: Steven Joyce (National). Safe under the high ball and flying dildos, he can administer the infrastructure of backline defence from No 15, rather than at 13 where he was more of a convention centre fan. Graduate of Francis Douglas Memorial College (home of All Blacks the Barrett brothers, Conrad Smith and political commentator Patrick Gower); that's good pedigree.
Left wing: James Shaw (Green) eventually accepted the role, after at first insisting there be a female co-left-wing out there in 11 with him. Concerns over his ability to read the game have arisen of late, but still rated the best left wing in the House.
Centre: Peter Dunne (United Future). A centre who can pass the ball to the left and the right, has an eye for the gap, and plays both sides of the field. Was first penned in at lock, until it was discovered his height had been elevated 50cm by taking in the height of his quiff.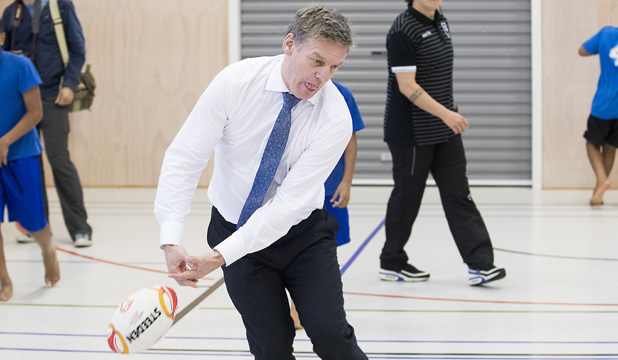 Good job for Bill English it's union and not league after dropping the Steeden in training in July.
Second five: Bill English (National): Thought to be a safe pair of hands, until video emerged of him dropping a pass at a rugby league promotion. Can probably expect a few hospital passes from first five Peters, as well. Selectors were persuaded by the amount of running Bashing Bill has been putting in, and by his high-carb spaghetti pizza diet. Has agreed not to send texts to former staffers while on the field.
Right wing: David Seymour (ACT) the lone ACT MP was the first player written on the team charter, and not just due to his insistence that bars and rugby clubs stay open while the Parliamentary XV was playing. Very good at the death.
First five: Winston Peters (NZ First). Insisted he be first five, captain, vice captain, lead the haka, coach, physio, drinks carrier, doctor and communications manager. Concerns about his ability as captain to get on with the referee were allayed when Peters said he would ref as well. His objection to having any player holding a Maori seat in "his" side was overruled.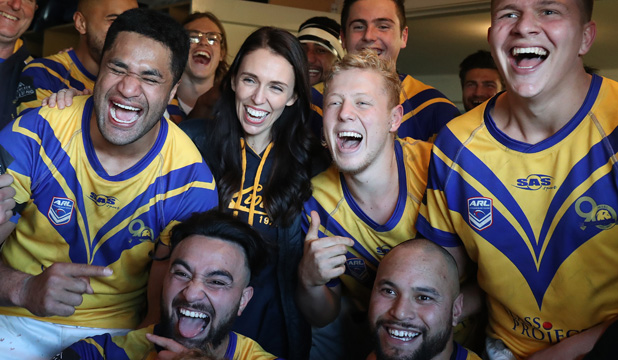 Jacinda Ardern shows she's a league girl too, pictured with the Mt Albert Premier team.
Halfback: Jacinda Ardern (Labour). Initially said she wasn't interested in replacing Andrew Little at halfback, but his withdrawal has her in as a yappy, feisty halfback in the T J Perenara mould. So yappy in fact, she was once told to "zip it sweetie" by an opponent. An Ardernt rugby league fan, she's akin to Piri Weepu - adept at two codes. And like Piri at the 2011 Rugby World Cup, she's been kicking goals from everywhere in training.
No 8: Judith "Crusher" Collins (National). Used by National largely off the backbench for a time, Collins has proven too good to overlook, given her ability to maim, maul and dismember. Concerns around her discipline and decision-making saw her dropped after the tour to China, where she milked a penalty on the Argentine No 8, Oravida.
Openside loosie: Nick Smith (National). As loose as they come, with a number of National captains forced to rein him in after he either roamed offside, or went missing in action altogether. A climate change has him back on the openside, where his conflicts will be of interest.
Blindside loosie: Metiria Turei (Green). Team officials are to appeal her self-imposed suspension, as she is a vital player, like Sonny Bill. Just what you need in murky places such as rucks and mauls, she says has got away with playing the ball on the ground, being constantly offside, and deceiving the referee for two decades, but it's all ok as she was forced to do that by the stupid rules.
Lock: Te Ururoa Flavell (Maori Party). Possibly related to former All Black Troy Flavell, though we haven't bothered to check. Born in Tokoroa, as All Blacks Richard Kahui, Walter Little, Keven Mealamu, netballer Maria Tutaia and Wallaby Quade Cooper were; that's good enough for us. Very strong on retaining territory and possession.
Lock: Simon Bridges (National). His name makes him sound tall.
Loosehead prop: Kelvin Davis (Labour). A loosehead who likes throwing his weight around. Good at sledging, generally considered a bonus in the hurly burly of top level play.
Hooker: Murray McCully (National). He is throwing it in at this election, and hookers need to be good at throwing it in. Also we couldn't pick a female MP at hooker, as in politics inference is everything. Deep concerns over this selection, given his propensity for off the ball action, and his tendency to sneakily trip or put the slipper in on team-mates and officials.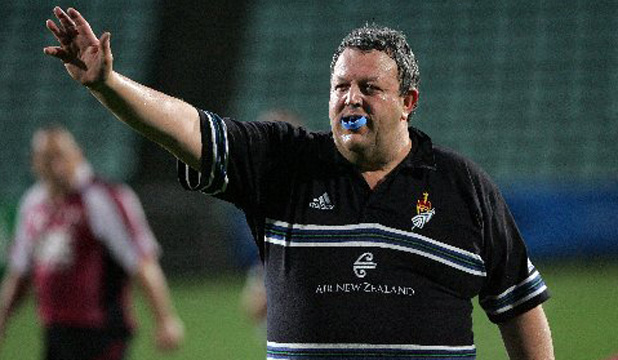 Parliament XV veteran Gerry Brownlee in the team colours in 2009.
Tighthead prop: Gerry Brownlee (National). Front row powerhouse who rebuilt quake-stricken Christchurch, so should have little difficulty propping up a scrum. Will stop at nothing to mine for the ball, and there are few MPs better at lifting others up (especially if they're wearing blue). One of the first selected, once he promised to always go through security when boarding the team plane.
Not considered: Todd Barclay (National), first we couldn't find him, then we had concerns over whether he'd turn up. He still wants his match fee though.
Not considered: David Clendon and Kennedy Graham (Once were Green): initially in the frame, until they questioned the team's tactics, the selection of Turei, and announced they were uncomfortable with the damage football does to grass, and steam off the forwards contributing to global warming.
- Stuff