Steve Hansen on ABs props: They need to give themselves an uppercut
The recalcitrant behaviour of his props over the last fortnight has not escaped the attention of Steve Hansen - and the All Blacks coach is not pleased about it.
Not by a long stretch.
Over the last week or so two Crusaders props have been found to meet the red-card threshold for actions on the Super Rugby field that have been questionable, to say the least.
A week ago loosehead prop Joe Moody soured his comeback match against the Waratahs by thrusting a forearm into the throat of Kurtley Beale off the ball. It wasn't picked up at the time, but did not escape the attentions of the judiciary process which dished out a two-week ban.
READ MORE:
* ABs' peek at future
* Taufua measures up
* ABs reward Taufua
* Umaga: We need player safety
Then on Saturday night at Eden Park, experienced All Blacks tighthead prop Owen Franks appeared to strike Blues hooker James Parsons with a swinging arm to the head that also escaped on-field scrutiny on a technicality, but not that of the opposing coach, or the Sanzaar judiciary who have summoned him to a hearing for meeting the "red-card threshold".
After the match Blues coach Tana Umaga severely criticised the lack of action at the time, with replays clearly showing that Franks had struck Parsons off the ball at a ruck. It appeared that referee Glen Jackson determined he could not take action because of the time that had elapsed before it was brought to his attention.
Parsons left the field for a HIA, and was withdrawn from the match on the advice of the Blues doctor.
"I'm sure there are protocols around contact with the head," Umaga said after the match. "First and foremost safety of our players is what we're looking for. We had two guys come off there (Matt Duffie also had to leave the field after landing badly in a mid-air tangle with Crusaders wing Manasa Mataele). I'm sure there will be questions asked, and there should be."
When the subject was raised at Sunday's All Blacks squad announcement in Auckland, Hansen's furrowed brow laid his concerns bare.
Remember, a major factor in the All Blacks failing to secure their cherished British and Lions scalp last year was the red card dished out to Sonny Bill Williams in the second test in Wellington.
"I've got concerns about our whole discipline," said Hansen. "Last year we gave away too many avoidable penalties. We've talked about that on our foundation days.
"Both guys we're talking about have been out [injured] for a wee while, and were probably a little rusty in their techniques. They just need to have a look at themselves and give themselves a wee uppercut and get on with it."
Hansen, meanwhile, revealed he and his fellow selectors had thought long and hard about how they would set up the leadership for the French series, and came close to settling on a shared captaincy model.
Eventually it was decided that Sam Whitelock had earned the right to step in for the absent Kieran Read and lead his country in his own right.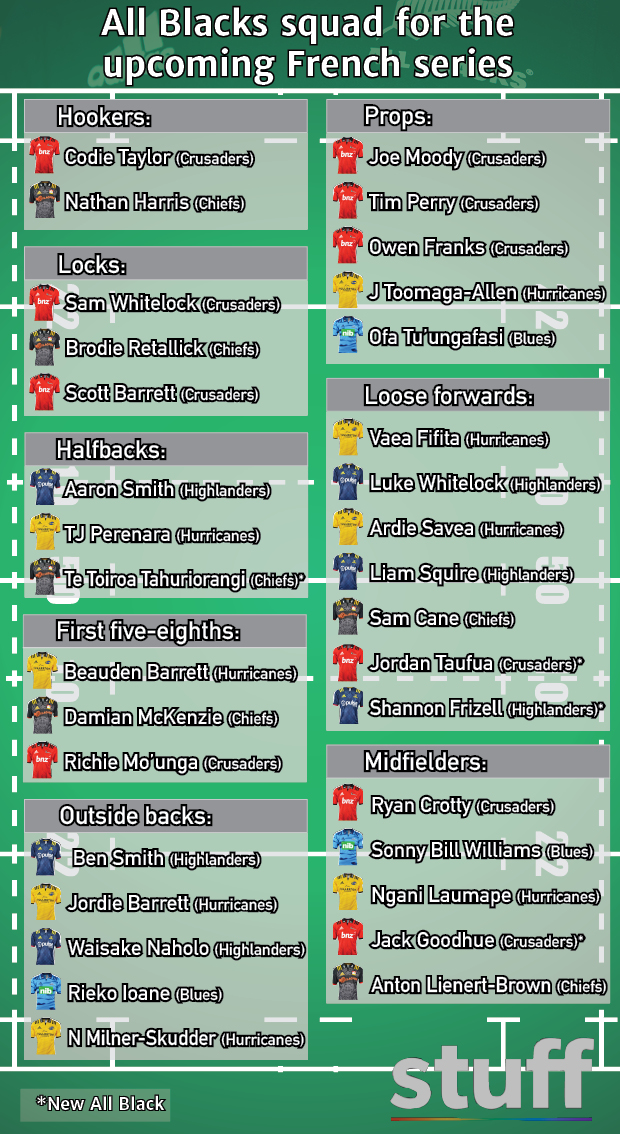 "Sammy did a fantastic job for us last year in Wales, and we liked what we saw there ... we like the idea of someone up front having a voice and being able to communicate straight away with the ref," he said.
"Sam is a young skipper, and at one point we thought about having co-captains. In the end we didn't, so the next best thing was to support him as much as we could so we've given him two vice-captains (Sam Cane and Ben Smith).
"Sam [Whitelock] won't necessarily play every minute of every game just because he's captain. We've got Brodie Retallick there as well. They'll go deep into the game as they always do, but who's going to lead the forwards if he goes off? We've made that really clear with Sam Cane being vice-captain."
- Stuff