Top 10 unforgettable close encounters with dangerous creatures
Like a walk on the wild side? Then here are 10 trips with close encounters to creatures.
HIPPOS
Ask pretty much any African tour guide about the animal they think is most dangerous, and most will say the hippo. It's grumpy, aggressive and kills more people in Africa than any other large creature. By hippo standards, the ones that inhabit St Lucia in South Africa are relatively tolerant. Boat cruises can tippy-toe up relatively close to a few families without being tipped over. But be wary at night – the hippos regularly roam through the town on the way to graze. See heritagetoursandsafaris.com
READ MORE:
* Namibia: Nature's showcase
* Tales of the unexpected
* The cave which swallows you up 
ELEPHANTS
The hippos, however, will generally stay in the water. If you're self-driving through a game reserve or national park in Africa, chances are it's the elephants you've got to watch out for – especially the temperamental young bulls. There's no doubt that being approached by one – or even better, a herd – in the likes of Hluhluwe-iMfolozi Park is pretty amazing. But you're really hoping they don't try to take a seat on your bonnet. See hluhluwegamereserve.com
GREAT WHITE SHARKS
When you're in the cage, and the shark appears, there's a sudden moment of extreme shock. They come from seemingly nowhere, and then they're eyeballing you. The only things that prevent a nasty mess are the cage bars. But the great whites are unmistakably magnificent, even though you wouldn't fancy being one of the nearby seals. The only place you can go shark cage diving in Australia is the Neptune Islands off South Australia's Eyre Peninsula, with operators such as Calypso Star. See sharkcagediving.com.au
SALTWATER CROCS
The see-through acrylic cage gets lowered into the enclosure, and then one of the big boys sidles up to it, a thin layer of protection away from you. The Cage of Death at Crocosaurus Cove is a chance to get right up close to some of the biggest crocs on Earth – most are more than five metres long and weigh around three quarters of a tonne. And when you stare down their throat, it's genuinely unnerving. See crocosauruscove.com 
ALLIGATORS
The Florida Everglades – the slow, gloopy river at the bottom half of America's Sunshine State – is the natural home of thousands of alligators. And air boat tours are the best way to go and see them. Several companies such as Captain Jack's run tours that get up relatively close, but watch where you're walking on the way there – there can often be gators sunning themselves on the path. See captainjacksairboattours.com
GRIZZLY BEARS
Seeing the wildlife – bears and bison especially – is a key part of the attraction in Yellowstone National Park. But they also make going for a hike, well… interesting. The grizzlies, in particular, are best seen from a car, but if hiking, the advice is to check in at a ranger station to see where they have been spotted. Carry bear spray and, if charged, stand your ground – they'll usually branch away. See nps.gov/yell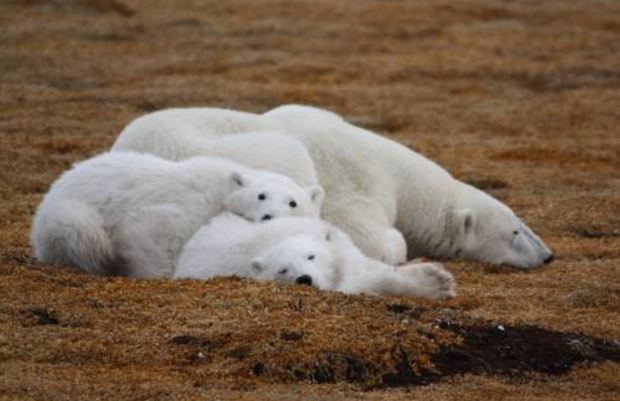 Credit: Geoff Thomas
POLAR BEARS
Sure, you can go out in a buggy to spot the gorgeous masters of the ice in Canada, but Natural Habitat Adventures goes one step further by having a hotel that can be moved across the tundra on wheels. This allows it to get close to where the bears are hanging out, and – hopefully – have them wander up to nosy through the windows at night. See nathab.com
CHEETAHS
They're the fastest of the big cats and among the most elusive too. They've also got big teeth and claws, so you don't want to get too close. But at the Okonjima farm in Namibia you can get closer than most, as this is where cheetahs rescued from hunters are rehabilitated ready to go back in the wild. Guides will walk you up as close as is safe on their cheetah-tracking experience. See okonjima.com
GORILLAS
There aren't many mountain gorillas left, so going to see one takes a fair amount of effort (read: lots of hiking). But Rwanda Eco Tours is among the few companies that regularly pay visits to gorillas in the mountainous border regions. These gorillas are habituated to humans, which means you can get a lot closer to them than you would gorillas who haven't much to do with us. See rwandaecotours.com
COBRAS
The Queen Soavabha Memorial Institute in Bangkok is staffed by the sort of slightly worrying people who like being around snakes. And bad snakes too. They breed cobras and king cobras here to extract the venom, while also doing demonstrations for the paying public. These often involve the cobras slithering around alarmingly close to the mini grandstand where ordinary punters sit. See saovabha.com
David Whitley has been a guest of the Tourism NT and South Australian Tourism Commission.